Welcome to Future Legends, a sprawling 118-acre sports venue that offers premier services for baseball and a variety of other sports. As a baseball tournament venue, we offer 10 outdoor fields and two indoor fields for teams to practice and compete on. Our complex also includes 12 multipurpose fields, an indoor multipurpose dome, a miracle special abilities field, 16 volleyball courts, and a professional-level multi-purpose stadium. With on-campus lodging, dining, retail, and other amenities, Future Legends is set to be your host for any baseball tournament in Colorado, regardless of its size. Whether you want to run a skills clinic for your local team or are looking for a venue for a large tournament, Future Legends can meet your needs and more.
In addition to providing a location for your tournament, lodging for participants, and other amenities, we will also provide you with support in marketing your event to your audience. We take care of all of the small details involved with setting up the venue and arranging lodging so you can focus on your event. If you're in need of a venue for your baseball tournament, you've come to the right place. Future Legends is ready to provide everything you need for your event.
What We Provide for Baseball Tournaments
When you book Future Legends, you're booking a venue that is unlike any other baseball tournament complex in Colorado. Everything from lodging to dining establishments and retail options are available at our complex, so your teams don't need to go anywhere else. We provide top-of-the-line security for all of our guests, onsite Wi-Fi, a dormitory for players, and on-site hotels just yards away from the dorms and playing fields. 
For those who partner with us to host their tournaments, we offer a variety of services you can take advantage of. Since our lodging is on-site and booked through Future Legends, we can provide a single point of contact who will work with you and with your guests to ensure that all rooms are booked and ready for your event. Our goal is to make everything as easy for you as possible by providing it all in one location. 
Baseball Tournaments at Future Legends
Booking Future Legends for a tournament, training camp, or other event is simple. We provide a single point of contact who will work with you to handle everything. Our goal is for the process to go as smoothly as possible from start to finish. We provide everything you'll need for your event, including working with other teams to arrange their lodging, team registration, and tournament schedules. All of our equipment is top of the line brands, too, so you don't need to worry about its quality.
If you're a participant in a tournament hosted here, booking your lodging is very simple. In addition to lodging, we can help you arrange transportation from the Denver airport or from other locations. If you ever have any questions or issues while you're here, one of our team members will be more than happy to help you. 
Tournament Options
With more than 100 acres available at our youth sports complex, Future Legends can host multiple events at once. It's not unusual for your baseball tournament to occur alongside a volleyball clinic or other event. However, we never over-book, and we make certain we can provide our outstanding service to everyone who is on campus at any given time.
In addition to hosting tournaments booked by event organizers year-round, we also host our own dorm-style tournaments. During these tournaments, participating teams stay in our on-campus dorms for the length of the tournament. These dorm-style tournaments can vary in length from just a weekend to a full week. In our dorms, each room can host two coaches and 14 players. Dorm-style tournaments create a unique experience, full of memories with teammates and family that will last a lifetime!
Our dorm tournament slots can fill up quickly, so we do suggest signing up for our eNewsletter to find out about these events as soon as you can. While each tournament is different, every team receives tournament merchandise, exclusive experiences and other amenities. Just as with any other event held at Future Legends, we'll make your experience as personalized and seamless as possible. 
On-Site Lodging
Finding lodging for your team and others who travel with you or have come to watch you play can be challenging. As a tournament host, finding adequate lodging near your tournament venue that can accommodate everyone can be even more difficult. Finding affordable accommodations that are near the venue can also be challenging. Often, these venues are booked by fans or by people attending other events in the same area. 
We understand these challenges, which is why we have partnered with several nationally flagged hotels. These hotels are located on-site and can provide lodging to teams, coaches, support staff, guests, fans, and your own team of tournament organizers. With approximately 260 rooms available, we have the space needed to host multiple tournaments at once. These hotels provide free Wi-Fi, multiple room options, suites, and dining options.
In addition to our hotels, as mentioned earlier, we also offer dormitories for teams. These dorms are reserved only for players. Currently, we have 64 dorm rooms that can sleep up to 14 players plus two coaches. These suites provide everything your team needs, including a variety of amenities. Booking a dorm instead of multiple hotel rooms gives your team a chance to spend more time together before and during the tournament. 
Dining
At any other baseball tournament venue, your dining options likely consist of what's offered at the concession stands. Future Legends knows that teams need more nutritious meals than that, which is why we provide restaurants and other dining options right here at our complex. You don't have to leave Future Legends at all to get a good meal. In fact, our hotels even offer room service, so there's no need to even leave your room. Our restaurants provide a wide range of meals that can accommodate any dietary need or lifestyle. 
Shopping and Retail
Likewise, your team can purchase souvenirs, forgotten necessities, and other items from our on-site retail establishments. Our stores offer everything from clothing to snacks and other items at reasonable prices. There's no need to arrange transportation to a shopping center and allocate extra time to go shopping during the tournament. It's all right here!
Security
Keeping your players safe and secure while at a tournament is a priority for you. But at Future Legends, you can be assured that we value safety as well. Our complex uses advanced security measures to keep our guests protected. We make use of trained security professionals, CCTV, electronic key cards, and other security measures to protect our campus. Security also played a part in the very concept of Future Legends. By placing lodging, dining, and retail options alongside our sports venues, you never need to leave the campus. Everything can be done here, reducing risks. 
Visiting Future Legends
Future Legends is located in Windsor, Colorado, on 118 acres. From Denver, you will drive north along US-85 or I-25N. We are only about an hour from the Denver International Airport and can assist with travel to and from the airport for those flying in. If you are in need of driving directions from other parts of the state or have questions about visiting Future Legends, please let us know.
In addition to everything we provide, the city of Windsor also has a number of attractions and activities your team may enjoy. These include a museum, golfing, a number of parks, and several hiking trails. Windsor is known for its charm and its amazing views, so guests may want to set aside an extra day or two to enjoy what the town has to offer.
Partner with Us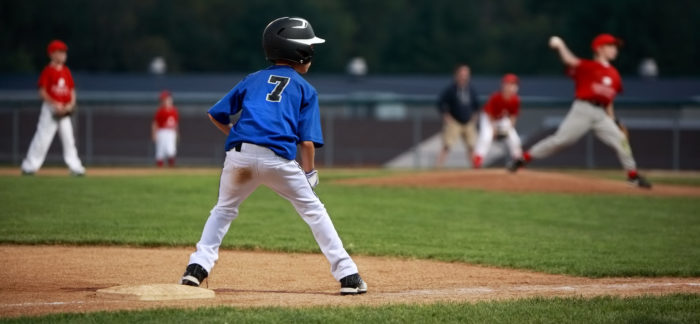 If you would like to schedule a baseball tournament or partner with Future Legends for any event, please reach out to us today. We can assist you with team registration and booking your stay. We can even help you with fundraising through our partnership with the FundMyTeam organization. We look forward to discussing how Future Legends can serve as your baseball tournament venue.